Dance is the ultimate way to get children moovin', groovin', and staying active! Whether you're looking for fun movement ideas for your child's birthday party or just a way to get some sillies out, here are some great dance games that children will love!
While you are probably familiar with the popular family-friendly dances such as the YMCA, chicken dance, or now trending baby shark dance, here are a few unique dance activities that spark creativity and promote teamwork. And the best part? They can all be enjoyed with any music, so no need to hear one song on repeat all day!
Here are some of our Favorite Dance Games for Toddlers, Preschoolers, and School-Age Kids
1. Mirror Dance
The Mirror Dance is a fun activity that requires focus, teamwork, and works best in pairs of two. Children will face each other and take turns being the "leader". As you play music, the leader will make up moves that their partner will try to replicate at the same time. It is best to dance to slower songs, as it will be easier to follow along. As children get the hang of the activity, their dances will appear to mirror each other as they copy each other's movements.
2. Freeze Dance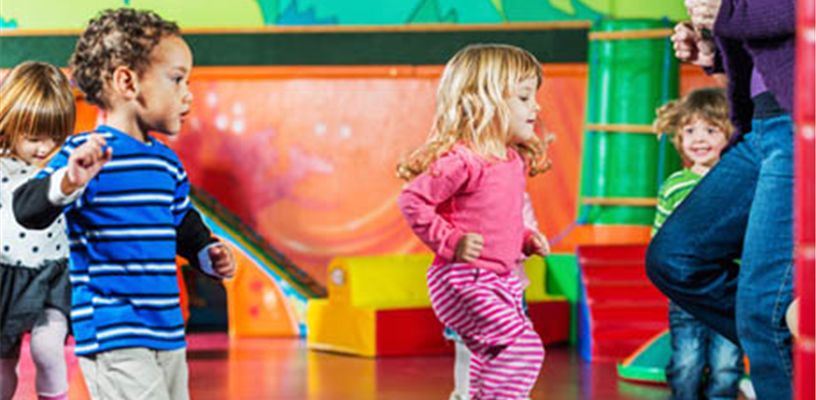 Ready, set, FREEZE! Similar to the popular freeze tag game, freeze dance uses the same idea. Start by playing some tunes for children to dance and move around to. Then, at a random moment, pause the music. Everyone must stop dancing and stay as still as possible. Give it a few moments and then play the music where you left off. When the music starts again, everyone can go back to dancing!
3. Ribbon Dance
The Ribbon Dance puts such a fun spin (literally!) on dancing! Grab a wand or stick and tie a few ribbon strands on the end. This will be your homemade "dance ribbon". Give each child their own ribbon to twirl around as they dance and spin around the room.
4. Emoji Dance
The Emoji Dance allows children to express different emotions while dancing to the beat. Put on some music, shout out an emotion, and challenge your kids to dance in a way that expresses that feeling. Every so often, shout out a different emotion for your kids to portray. Some ideas could be happy, angry, confused, tired, or excited. If you're feeling extra creative, you can print off photos of emojis to hold up instead of shouting them out.
5. Pass the Dance Move
Pass the Dance Move is a fun dancing activity that is best for when you have a larger group of children. It is a fun way for kids to practice their memorization skills and is usually best for older children. To play, one child will start by choosing one dance move. The next child must repeat this move and then add their own, and so on. The more people you have, the more difficult it gets to remember all the previous dance moves, but that's part of the fun!
6. Freestyle
And last but not least (or when you have run out of ideas), just freestyle! As fun as dance games are, children love expressing their creativity. Allow them to make up their own moves and freestyle to their favorite song. You will love seeing all the fun and crazy dance moves they come up with!
Child Care for Highly Sensitive Preschoolers
Highly sensitive preschoolers need the right childcare environment. Rising Stride Child Care Centers has just that environment. Children of all sensory levels thrive at Rising Stride. At our Centers, children are nurtured and encouraged to understand themselves and their needs. Ready to learn more? Contact Rising Stride now for more information.